I hope you're sitting down for this: More meme activities are coming

Antimatter has been growing tremendously over the past few months, thanks to all the excitement and feedback from educators in our community. But we're just getting started.
Today we offer one activity—the grid—where every student in your classroom is invited to create memes that others can bless ("upvoting" in Antimatter's terminology). We're now about to embark on building new activities to engage and inspire your students.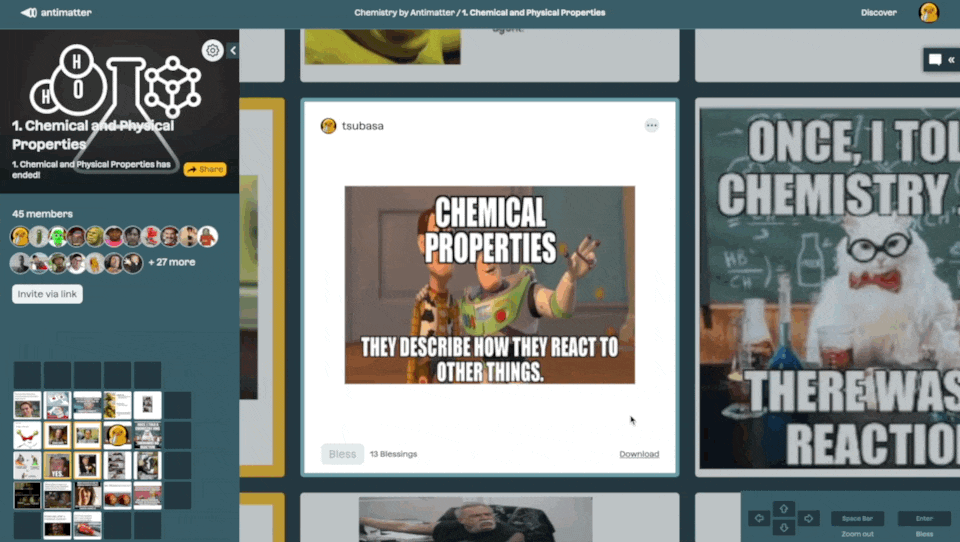 As we develop and introduce new activities, we are again relying on you, educators in classrooms, to help us design the next set of activities. Antimatter is only possible because of the feedback and ideas from educators like yourself.
If you've had experience with meme-based activities in your classroom, PLEASE reach out. We would love to hear about it, and see how we can turn it into an activity for everyone.
We are happy to offer you a $25 gift card as a token of our appreciation for your time and input. Beyond the gift card, this is an opportunity not only for you to help Antimatter meet your needs in the classroom but also for you to share everything that you've found successful with other educators in our community and around the world.
We're also all ears to your suggestions on how we can deepen or simplify the kinds of activity we offer on Antimatter. Please send us your thoughts by replying to this email, or let us know when we can have a chat!
Ready to get in touch? Simply respond back to this email or email us at jonathan@antimatter.systems for your questions!